This is the year which people will talk about……
Ms Man Lok Yan, Joyce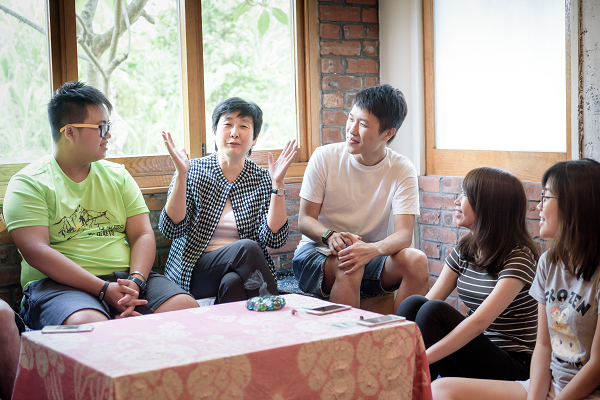 It was a year marked with losses and denuded of ordinary structure – without a school calendar, office hours, church services, public events or gatherings. Never in our lives have we experienced a period that was so isolating, challenging, and difficult. It began with massive protests which morphed quickly into a broader social movement. Then, the COVID-19 outbreak started to reshape every fabrics of the society.
During a time of great turmoil and social trauma, grace still finds its way to us. We see the rekindling the call for mission, while experiencing abundance in scarcity. With a thankful heart, I would like to use 3 verbs – Heal, Humanize, Harvest – to recapitulate our amazing journey of 2019-20.
Healing A recent study finds three-quarters of Hongkongers are experiencing negative thoughts following last year's unrest and amid the Pandemic, with population under 24 suffering significantly more from PTSD and depressive symptoms. Youth suicides continue to spark mental health fears. Hence, Breakthrough is committed to bring about healing and growth among the young through counselling, psychotherapy and experiential learning, empowering them to lead a healthy and positive life. And, personal growth is better sustained if the family system also underwent change, so work concerning adolescent and family will remain a key aspect of our ministry.
Humanizing The theme "Rehumanize and Hope", reflective of our passion and vision for the city, had been our core message throughout the past 12 months. All along, Breakthrough is called to go into the world and impact lives. During the Pandemic, we collaborated with churches and NGOs to help mobilize 100 youth volunteers to serve and care for those in the community. This is our mission to inspire and engage them in innovative community projects as well as to cultivate a strong human spirit to thrive on.
Harvesting Yet, individual growth is short-lived unless there are also cultural transformation. Our Media ministry will, therefore, continue to be a witness to our time and a keeper of youth. There are important values to learn from people of all ages — values which can be sowed, nurtured and bloomed in their course. In so doing, we have discovered new possibilities of using media to reach out when social distancing is the new normal.
Facing startling rapid changes, the young generation is often caught in its most fragility. Now, more than ever, they need to experience first-hand the Love and Hope of God. Jesus says, "What a huge harvest! How few workers! On your knees and pray for harvest hands!" (Matt 9:37-38, The Message) Truly, it is impossible to carry on the work without people like you – partners, donors, volunteers and staff – whose trust and generosity have enabled us to strive forward, against all odds. So, once again, thank you for being with us in this journey!